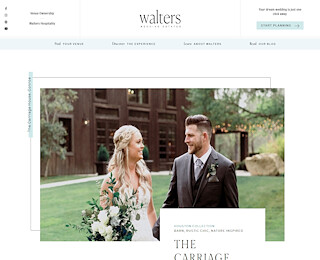 Enjoy the Top Wedding Venue in The Woodlands
Marriage is the ultimate celebration of love as a couple. It is the great beginning of a new life together, and that is why it deserves a special celebration. For that, the presence of family, friends, and relatives is essential. Also, both they and the bride and groom deserve the best setting to provide a moment to remember.
In Houston and its surroundings, you will surely find a variety of alternatives to choose from. However, to celebrate a spectacular wedding, there is no better way than choosing one of the top-of-the-line The Woodlands TX wedding venues. Among the options, the best choice will always be Carriage House. It is essential that you get to know us, so you know why we are the ideal place for your big day.
Why Choose The Carriage House?
A Place for Everyone
At The Carriage House, we welcome all weddings. Our goal is that if there is love, you will have a unique space to celebrate a world-class wedding. Our goal is that whether you are the protagonist or celebrating the union of a loved one, you will feel comfortable and at ease. We even welcome your pets, because we know that your furry relatives are a vital part of your family.
Unparalleled Venues
You will enjoy a wedding in an unrepeatable place in the world. The country setting is unlike any other in Texas, and we have different settings for you to have the wedding of your dreams. You can choose from spectacular ceremony options, including our lovely Camelia, the top wedding chapel in The Woodlands TX. You also have other options such as our beautiful Chandelier Arbor or our special outdoors Ceremony Site. To prepare you for the occasion, we have 2 exquisite getting-ready rooms, with amenities including a private patio and TV.
The Best Amenities
We are the leading affordable wedding venues in Woodlands TX because we offer unique experiences in the region. Your guests can enjoy a variety of activities including serving coffee in our vintage chariot-like coffee car. They can also enjoy their favorite beverage at Sip Tiny, our very own camper bar.
First-Class Support
We want to help you refine every detail so that you have time to remember it at your wedding. That's why we have the best staff of wedding planners in The Woodlands TX. You will also enjoy the exceptional quality of service of our staff, ready to make you feel like royalty. For any additional services such as music, entertainment, or transportation you will have the most outstanding group of vendors, who will provide you with the best of the best in the industry.
We Give You More for Your Money
You won't find a wedding venue with banquet hall in Woodlands TX that gives you more for your money. Our standard package is the most complete you'll find to celebrate the wedding you've been dreaming of. In addition to the venue, you can have tables, chairs, 3 custom-built tables, our curated collection of table lanterns, and more.
Celebrate the Wedding of Your Dreams!
The Carriage House is the premium wedding venue in The Woodlands, and we are ready for you to have the most spectacular wedding ever. We have the experience, the logistics, and the best of the best in the industry, all to celebrate the beginning of your happiness as a couple in style. Schedule a free tour today to see if our venue is right for your big day.
Wedding Venue The Woodlands
The Carriage House Houston
+1 936-588-4083
3845 Sapp Road
Conroe
TX
77304
View Larger Map
We welcome your comments!
Getting Ready Suites
We have two suites you can use that offer stunning photo ops as you and your wedding party are getting ready for your big day.
Contact Us
To request more information, please fill out the form below. We look forward to hearing from you!